Winner Announcement: Build Your Unique Team at BUYFIFACOINS
2022-11-07 01:39
The event "Build Your Unique Team at BUYFIFACOINS" comes to the end, now is the time to announce the result & lucky winners!
Next, the list of 4 winners are randomly chosen by the third party gleam.io according to the winning rate as long as the event ends. The details are as follows:
Prize:
1. 250K FIFA Coins
2. 200K FIFA Coins
3. 150K FIFA Coins
4. 100K FIFA Coins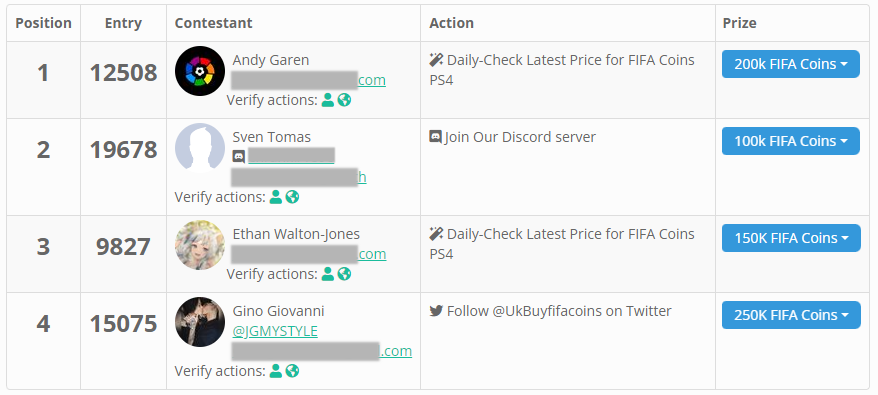 Congratulations to the above winners! Please contact 24/7 live-chat to claim corresponding prizes in one month!
Wish you good luck & Have fun at BUYFIFACOINS!
Nieuwsma: Bought a few times already in EA FC 24 on PC, no issues anytime. And their live support couldn't be any better, 10/10! Very appreciated.

The customer has bought:

FC 24 Coins

2023/

11/11

Florin: Really fast deliveries, I love the customer service.

The customer has bought:

FC 24 Coins

2023/

11/11

Bumba: 100% legit and the 24-hour live agent was really fast and helpful, I will definitely buy more from here.

The customer has bought:

FC 24 Coins

2023/

11/11




Andreiul: The best and safest fifa coins site here! The prices are the best of all sites. BUYFIFACOINS team works very hard, so I can get my coins in a few minutes.

The customer has bought:

FC 24 Coins

2023/

11/11




Nicolas: They were very patient with me and made every step very clear, so I wouldn't mess things up even if I was the first time to buy FC coins. Great experience overall and awesome customer support staff as well.

The customer has bought:

FC 24 Coins

2023/

11/12




Arvid: This is one awesome page that can be used with no hesitation. Trustable and reliable as well.

The customer has bought:

FC 24 Coins

2023/

11/12




Gavir: Easy to follow instructions and my player order was done in a quick manner, also support contacted me back within 10 minutes when I sent an email requesting support.

The customer has bought:

FC 24 Players

2023/

11/12




Arthxxxx: First time buying coins and players for FC 24, even though I used to buy coins for FIFA23, the service is still amazing, and does not take long to get your order. I really like that, definitely recommend BUYFIFACOINS if you're looking for fc 24 coins to build up your team.

The customer has bought:

FC 24 Players

2023/

11/12




Lionel: Speed is very great in delivery. I was struggling at first but they did all the work needed to give me the player that I paid.

The customer has bought:

FC 24 Players

2023/

11/13




Newton: Really good experience and prices with coins and players. Love the customer service and offers you a good amount of coins to compensate if the process goes over the estimated delivery time. Go to the website for sure!!!

The customer has bought:

FC 24 Players

2023/

11/13




Jordan: Great experience when I got my players! And there have not been any problems since the last fifa.

The customer has bought:

FC 24 Players

2023/

11/13




Stefan: The support is very helpful and responds quickly. 400k coins and one player were delivered fast and without any issues with my account or in game.

The customer has bought:

FC 24 Players

2023/

11/13